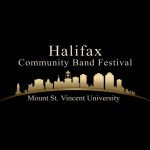 Halifax Community Band Festival
Band Festival Past Repertoire
The Halifax Community Band Festival strives to provide opportunities for musical growth for members of community bands throughout Atlantic Canada and beyond.  One of the main focuses of the festival is the selection of interesting and exciting repertoire for our participants to explore with our guest conductors. Below you will find a list of repertoire chosen for past festivals.
PAST COMMUNITY BAND FESTIVALS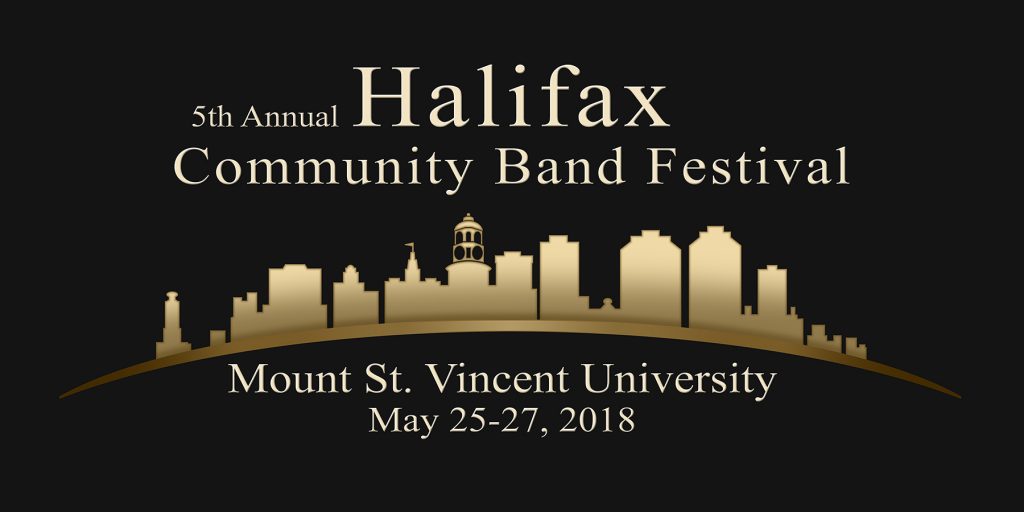 2018 Halifax Community Band Festival
May 25th-27th, 2018
Mount St. Vincent University, Halifax, Nova Scotia
Guest Conductors: Robert Buckley and Dr. Mark Hopkins
| | |
| --- | --- |
| 2018 MacKay Band (Beginner) | 2018 Hargreaves Band (Advanced) |
| TBA | TBA |
---

2017 Halifax Community Band Festival
May 26th-28th, 2017
Mount St. Vincent University, Halifax Nova Scotia
Guest Conductors: Dr. Dale Lonis and Ardith Haley
2017 MacKay Band (Beginner)
2017 Hargreaves Band (Advanced)
Gr.1 – Court Festival
Bruce Pearson
Gr.4 – Arabian Dances
Brian Balmages)
Gr.0.5 – Be Still My Soul
arr. Robert W. Smith
Gr.3 – Campbell River Sketches
Mark Williams
Gr.1.5 – The Water is Wide
Julie Griffin
Gr.4 – Galop
Shostakovich arr. Donald Hunsberger
Gr.2  – Meadowlands
James MacBeth
Gr.3 – Cathedral Grove
Robert Buckley
Gr.2 – Whirlwind
Jodie Blackshaw
Gr.3 – Con Brio
Ralph Ford
Gr.1 – Ancient Voices
Michael Sweeney
Gr.2.5 – Pevensey Castle
Robert Sheldon
Gr.1 – African Folk Trilogy
Anne McGinty
Gr.1.5 – Ye Banks and Braes O' Bonnie Doon
arr. Michael Sweeney
Gr.2 – Bandology
Eric Osterling
Gr.2 – Land of the Midnight Sun
Vince Gassi
---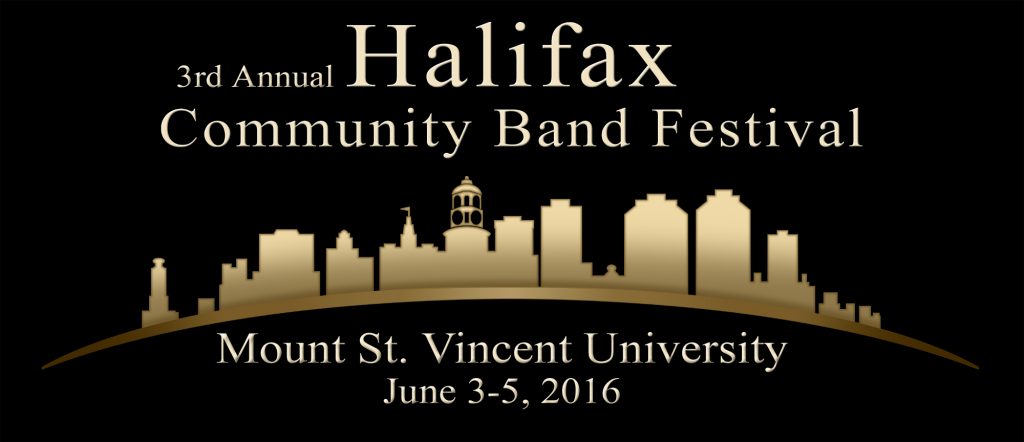 2016 Halifax Community Band Festival
June 3rd-5th, 2016
Mount St. Vincent University, Halifax Nova Scotia
Guest Conductors: Dr. Gillian MacKay and Dr. Karem Simon
2016 MacKay Band (Beginner)
2016 Hargreaves Band (Advanced)
Gr.1 – Air and March
Henry Purcell, arr. John Kinyon
Gr.1 – Battle Pavanne
Susato/Margolis
Gr.1 – French-Canadian Suite
Arnold MacLaughlan
Gr.2 – Donkey Riding
Donald Coakley
Gr.1.5 – Chorale from Jupiter
Gustav Holst, arr. James Curnow
Gr.2 – Fanfare and Flourishes 2
James Curnow
Gr.1.5 – Loki the Trickster of Asgard
Kevin Kaisershot
Gr.2 – Let Me Weep
Handel, arr. Jacob de Haan
Gr.1.5 – The New Anzacs
Hogg

Gr.3 – Amazing Grace
Frank Ticheli

Gr.1.5 – A Fisherman's Tale
Ryan Meeboer
Gr.3 – Ammerland
Jacob De Haan
Gr.1.5 – Early One Morning
traditional, arr Marlatat
Gr.3 – Tricycle
Andrew Boysen Jr.
Gr.2 – A Childhood Hymn
David Holsinger

Gr.3 – Yorkshire Ballad
Barnes

Gr.3.5 – In the Forest of the King
Pierre La Plante
Gr.3.5 – Prelude and Fugue in Bb
J.S. Bach, arr. Moelmanm
---
2015 Halifax Community Band Festival
May 22nd – 24th, 2015
St. Mary's University, Halifax Nova Scotia
Guest Conductors: Dr. Jason Caslor and Colin Clarke
2015 MacKay Band (Beginner)

2015 Hargreaves Band (Advanced)

Gr.1 – Ahrirang
arr. Robert Garofalo
Gr.3 – Age of Chivalry
Ryan Meeboer (Canadian)
Eighth Note Pub. (81-CB12225)
Gr.1 – As Twilight Falls
Robert Sheldon
Alfred Music (36665)
Gr.3 – Bucimis
arr. Bob Lipton
Grand Mesa Music (GMM248-SET)
Gr.1 – Be Still My Soul
arr. Robert W. Smith
C.L.Barnhouse (023-3906-00)
Gr.3 – Klezmer Karnival
Philip Sparke
Anglo Music (Hal Leonard 44004942)
Gr.1.5 – Celtic Air and Dance
arr. Michael Sweeney
Hal Leonard (4002573)
Gr.3 – Machine Awakes
Steven Bryant
Hal Leonard (4003980)
Gr.2 – Fanfare for the Unsung Hero
Matt Conaway
C.L. Barnhouse (024-4096-00)
Gr.2 – Maple Leaf Forever
Colin Clarke (time 3:00)
Gr.0.5 – Jupiter from 'The Planets'
Robert W. Smith and Michael Story
Alfred Music (26689)
Gr.3 – Midway March
John Williams/arr. John Moss
Hal Leonard (23423065)
Gr.1.5 – Soldiers, Procession & Sword Dance
Bob Margolis
Gr.2 – The Rowan Tree
Randall Standridge
Grand Mesa Music (GMM233-SET)
Gr.2 – Swahili Folk Hymn
Kevin Mixon
Alfred Music (29594)
Gr.2.5 – Salvation is Created
Tschesnokoff
Kjos Pub. (B222)
Gr.1 – Take the Stairs
Bob Lipton
Grand Mesa Music (GMM297-SET)
Gr.2 – Three Czech Folk Songs
Johnnie Vinson
Hal Leonard (8724520)
---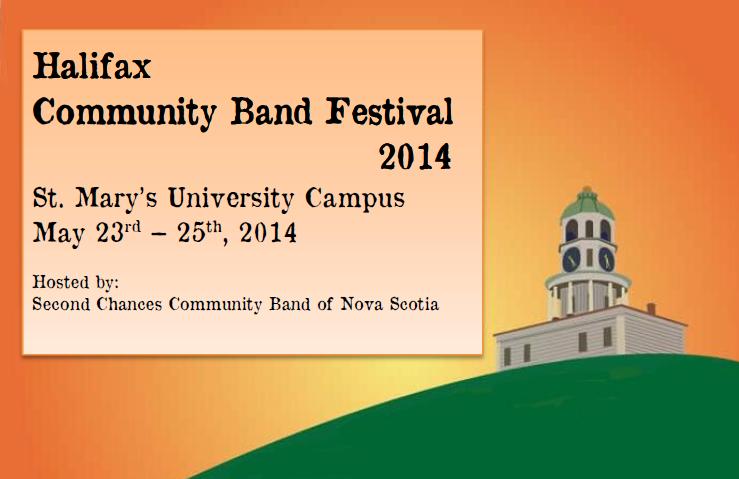 2014 Halifax Community Band Festival
St. Mary's University, Halifax Nova Scotia
May 23rd-25th, 2014
Guest Conductors: Dr. Jason Caslor, Maggie Helms, Dr. Greg Irvine, Ron Murphy
2014 MacKay Band (Beginner)

2014 Hargreaves Band (Advanced)

Gr.1 – Air and March
Purcell
Gr.3 – Age of Chivalry
Ryan Meeboer (Canadian)
Gr.1 – Air and Alleluia
Mozart arr. John Kinyon
Gr.3 – Ave Verum Corpus, K618
Mozart arr. Barbara Buehlman
Gr.2.5 – Brookpark Overture
James Swearingen
Gr.2-2.5 –Contre Qui, Rose
Morten Lauridsen arr. Robert Reynolds
Gr.2 – Canto
W.Francis McBeth
Gr.3 – Elsa's Procession to the Cathedral
arr Jay Bocook
Gr.1.5 – Cape Breton Lullaby
Vince Gassi (Canadian)
Gr.2.5 – Fanfare, Ode, and Festival
Bob Margolis
Gr.2 – Caprice
William Himes
Gr.3 – Havendance
David Holsinger
Gr.1.5 – Newfoundland Folk Song (She's like the Swallow)
Jim Duff (Canadian)
Gr.3 – Jim (In Memory of Jim Hargreaves)
Ron MacKay (Canadian)
Gr.1.5 – A New Journey
Victor Lopez
Gr.3 – John Williams in Concert
John Williams arr. Paul Lavender
Gr.1 – Rising Star
Samuel Hazo
Gr.2 – Memories of Stephen Foster
arr. David Shaffer
Gr.2 – Rocky Mountain Lullaby
Christiaan Venter (Canadian)
Gr.3 – Normandy Beach
John Edmonson
Gr.1 – Silvergate Overture
John Edmondson
Gr.3 – On the Mall
E.F. Goldman
Gr.1 – Simple Gifts
Johnnie Vinson
Gr.3 – Reflections on an English Hymn
Carl Strommen
Gr.1 – South Hill March
Michael Vertoske
Gr.2 – Still Wie Die Nacht
Karl Bohm arr. Charles Spinney
Gr.1 – Twin Oaks
David Schaffer
Gr.3 – Three Ayres from Gloucester
Hugh Stuart
 
Gr.3 – Three Folk Miniatures
Andre Jutras
 
Gr.2.5 – Zooveniers
Randal Standridge