Halifax Community Band Festival
Our Venue – Mount St. Vincent University
The Halifax Band Festival weekend is being organized by a very enthusiastic committee of community musicians. The venue chosen for the 2016 Halifax Community Band Festival is Mount St. Vincent University, located on the Bedford Highway in Halifax.
Mount St. Vincent University – 2015 Campus Map
---
UNIVERSITY FACILITIES
Seton Hall Auditorium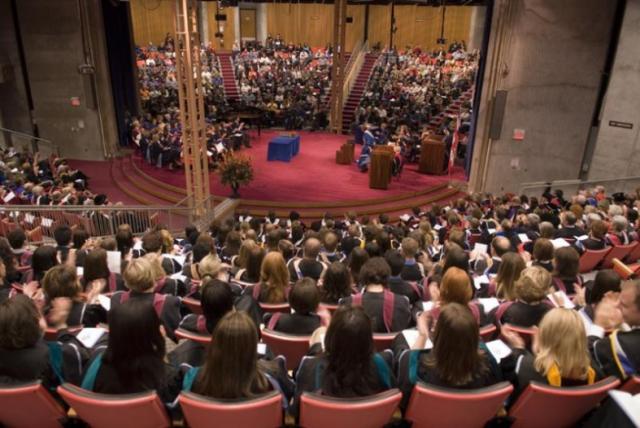 This will be our rehearsal space for the Hargreaves band as well as the performance venue for both our guest performance on Saturday afternoon and the festival's Sunday performance
---
UNIVERSITY ACCOMMODATIONS

Residences
The residence facilities at Mount St. Vincent University will be available to participants who wish to stay on campus and within walking distance of all venues.  Currently the quoted rates per night for participants of the Halifax Community Band Festival are as follows:
$99.00 for an apartment (4 bedroom, Westwood)
$39.00 for a Premium Single Room (Westwood)
$29.00 for a Budget Single Room (Assisi Hall or The Birches)
$50.00 for a Traditional Double Room (2 twin beds or 1 double bed)
$70.38 for a Suite (two bedroom OR double room w/private bath)
Rates include campus parking, wifi access, linens and atheltic pass.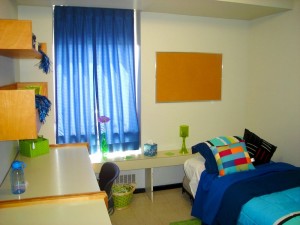 Assisi Hall – Budget Residence Room – Each guestroom features a single bed, sink, closet, desk and linens. Every other floor in this 12-storey building has a lounge which features a small fridge, kettle, microwave, iron and board, and color TV with cable. This is a great building for young groups as the 24 hour security desk is located in the main lobby. Each floor accommodates 13-14 people. Assisi Hall also has a laundry room and TV lounge on the second floor.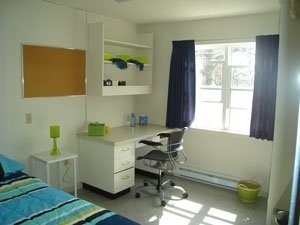 Birch Townhouses – Budget Residence Room – Each townhouse has 20 single bedrooms, a common TV lounge, kitchen area, laundry and home-style washroom facilities. These facilities are perfect for groups of twenty that wish to stay by themselves.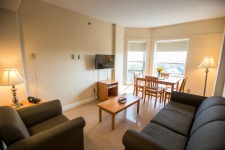 Westwood – Premium singles and Apartments – Westwood is home to apartment style units that can accommodate up to 123 guests. Most of these units consist of a kitchen, living room, two full baths and four single bedrooms. There are some single dormitory style rooms available in this building as well as some smaller apartments. Note: Apartment shares are available for attendees of conference groups willing to share with other attendees.
Booking Accommodations
To book your room,  you can book online using the Reservation Request Form located on their website: HERE  Please let them know you are a participant in the Halifax Community Band Festival in the 'additional information' section of the form.
---
Food Service
– OUT OF DATE –
WILL UPDATE SOON
The university caterer, Aramark Higher Education, provides all food service on campus. Catering information and menus can be found at www.smuaramark.catertrax.com. If you have any questions or wish to discuss menu options and pricing you can contact the Catering Office at 420-5159 or by email at catering@smu.ca.
Campus Parking
– OUT OF DATE –
WILL UPDATE SOON
For Guests in Accommodation
For guests staying in accommodations on campus, parking is provided at no additional charge. The Arena parking lot is located on the corner of Inglis Street and Tower Road. Please pick up your Parking Pass from the Front Desk upon arrival and display it in the front windshield of your vehicle.
For Guests not in Accommodation
Parking passes are $5.00 per day and can be obtained at the Facilities Management Department, Monday to Friday 8:30 AM to 4:30 PM, located on the 1st floor basement of the McNally Building, Room 001 (south side of the building – directly across from the Sobey Building).
Free evening parking is available, Monday to Friday, after 5:00pm in spaces designated as "general" and in "faculty" spaces after 8:00pm.  On weekends, all parking spaces can be used.  There is no overnight parking permitted.